In recent years, Indonesia has been facing the problem that mangrove and other flood control forests wither due to the development of coastal areas, which has been fostered against the backdrop of the country's stable economic growth. In response in 2011, the Aeon Environmental Foundation began implementing a three-year project to plant trees in the coastal areas to protect the local residential districts and expressways from floods and to restore greenery in the areas. In Jakarta on August 25 in 2013, which was the final year of the project, saplings were planted by a total of some 1,600 volunteers, including local people and those participating from Japan, China, Malaysia, Thailand, Vietnam and other Asian countries. They planted a total of about 24,000 mangrove saplings, cooperating with each other irrespective of differences in nationality.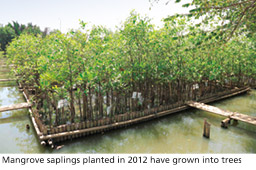 The number of saplings planted over the three years has reached around 63,000, and the saplings are gradually growing into trees eventually to form a rich forest.
In order to create a brighter future for children, Aeon will continue to plant saplings in cooperation with a lot of people in Japan and across the world.