The Aeon Environmental Foundation hosted the third Asian Students Environment Platform (ASEP) 2014 in China. The Platform, a ten year project from 2012, aims to promote the United Nations Decade on Biodiversity that began in 2011 and to develop human resource capable of contributing in environmental fields from a global perspective. Adding to China, Japan, South Korea and Vietnam, which had participated last year, the Platform welcomed Malaysia this year, totaling 80 students participating from the 5 countries. Under the theme of"Water and Human," the students went on fieldwork at wetlands, deserts,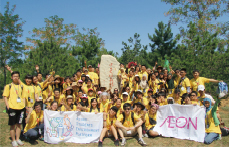 Tree nurturing activities at The Great Wall of China where the Foundation had
achieved plantation of one million trees in total in 2010
and the Dujiangyan Irrigation System, the World Heritage Site in China.They deepened exchanges though discussing environmental issues from a global perspective, sharing respective national history, culture, and values. On the last day, the students presented their proposals, such as "we need international cooperation also in environmental fields," showing their determination to realize the society in harmony with nature. Aeon will continue to undertake various initiatives to nurture the youth of the next generation for the greener environment in the future.