In order to respond to children's wish to learn at school, Aeon has been supporting construction of schools in the Asian countries since 2000, where educational infrastructure is not sufficiently developed. Backed by support from customers, we have built a total of 356 schools in Cambodia, Nepal, Laos and Vietnam. In Myanmar, we started school construction support as three-year project in 2012 under the partnership with the Japan Committee for UNICEF. 20 schools were already completed and a total of about 5,000 students are learning there. On December 8th, 2014, Aeon 1% Club Foundation presented donation to the Japan Committee for UNICEF in the view of building another 10 schools. The donation is comprised of 37,828,805 yen collected through the donation campaign conducted last year and the contribution of an equal amount by the Foundation. On March 27th, we held an opening ceremony for Aeon Padauk School in the suburb of Yangon City where local children and Japanese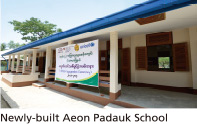 participants celebrated the occasion together. On 28th, in addition, Aeon Kayea School opened in Ayarwaddy Division, which was built under the joint initiative with the Government of Myanmar started last year. Together with customers, Aeon will continue to help realize brighter future for children of the next generation.
*Aeon 1% Club Foundation became a Public Interest Incorporated Foundation from April 1st, 2015.