Aeon has been delivering local specialties from all across Japan to customers abroad through its global store network in Asia. From July 9th to 22nd, Aeon Stores (Hong Kong) Co., Ltd. held Hokkaido Fair at its 13 stores in Hong Kong to offer variety of local products from Hokkaido, a northern prefecture in Japan with increased popularity as a sightseeing destination. For the main product of the Fair, we introduced Mikasa Melons from Mikasa City, Hokkaido, characterized by its rich scent and sweetness produced through high production technique. In order to preserve the traditional technique and expand the sale, Aeon has established an association for preservation and promotion of Mikasa Melon together with municipal government and producers.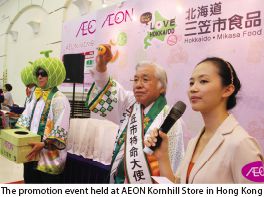 Under this initiative, Aeon is working to produce Mikasa Melons in its directly operated farm. On July 11th, in the presence of Mr. Kobayashi, the former mayor of Mikasa City, an event was held at Aeon Kornhill Store in Hong Kong to promote the City through activities such as tasting of the Melons and providing tourist information.
Aeon will continue its efforts to help revitalize local regions in Japan through delivering attractive regional specialties abroad.