The Aeon Environmental Foundation hosted the forth Asian Students Environment Platform (ASEP) in Vietnam for 7 days from August 3rd. The Platform has been held annually since 2012 with an aim to promote the United Nations Decade on Biodiversity formed in 2011 and to nuture future experts in environmental fields with a global perspective. Adding to students from China, Japan, South Korea, Malaysia and Vietnam, last year's participated countries, the Platform newly welcomed those from Cambodia. In total, 72 university students from 6 countries took part in the program this year. Under the theme of "Biodiversity and human being," the students toured around Hanoi and northern Vietnam, listening to lectures by intellects, doing fieldwork in national parks, and conducting interviews to local farmers.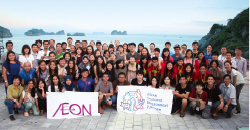 Cat ba island in biosphere reserve area, northern Vietnam
Through these activities, the students deepened understanding towards balance between conservation of biodiversity and social development, while sharing one another values and ideas about environmental conditions, history and culture that vary among each participant.
Aeon will continue to take various initiatives to realize the future where human and nature coexist in harmony.