Setting August as "Aeon Group Disaster Prevention Month," Aeon has been implementing awareness-raising activities against natural disasters for local citizens while continuing to support restoration of the Hiroshima Landslides occurred in 2014. From August 1st to 10th, at its Group stores in and around Hiroshima City, we conducted Aeon Yellow Recipt Campaign aimed for the relief, while holding another charity donation campaign during the whole August. Combining 2,486,511 yen, 1% value of the total amount of the price on the collected yellow receipts and the 416,670 yen of donation, the total contribution amounts to 2,903,181 yen. This is to be presented to Hiroshima City for restoration efforts.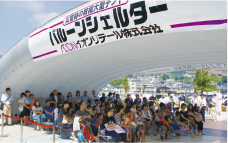 In the event on August 1st exhibited a "Balloon shelter," a large emergency tent
On August 1st, Aeon conducted awareness-raising event at Aeon Mall Hiroshima-Gion in cooperation with Hiroshima City Fire Services Bureau. To provide customers with opportunities to reconsider the importance of daily-basis disaster measures, we displayed emergency-kit and provided lectures on how to use AED and fire extinguishers, while holding educational workshops for children. Aeon, as a community-rooted retailer, will continue to take proactive initiatives with our customers toward disaster prevention.