On December 15th, Aeon Global SCM Co., Ltd. (AGSCM) won the Ministry of Economy, Trade and Industry (METI) Minister's Award under the Excellent Green Logistics Commendation Program.
The Award, organized by the Green Logistics Partnership Conference made up of the METI, and the Ministry of Land, Infrastructure, Transport and Tourism as well as related industrial organizations, recognizes excellent projects that have made remarkable achievements regarding the establishment of sustainable logistics system, such as reduction of CO2 emissions by promoting modal shift. AGSCM, which assumes Aeon Group's logistics operations, initiated railway transportation research project in 2007 with the aim of achieving higher efficiency in distribution and lower CO2 emissions in its supply chain. In 2010, partnering with manufacturers and logistics companies, the company established Aeon Railway Transportation Research Council, whose membership now counts up to 32. AGSCM and member companies have worked together to promote modal shift from truck shipping to more environmental friendly train shipping. Through such efforts, approximately 75,000 tons of CO2 (down 78% compared to truck shipping) have been reduced over the period from 2007 to 2015. In order to contribute to the realization of a low-carbon society, Aeon will continue to promote cross-sector modal shift proactively.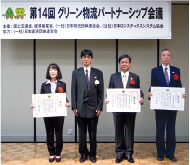 Awarded jointly with Japan Freight Railway Company and NIPPON EXPRESS CO., LTD.
From the left
Midori Yamaguchi, President of AEON GLOBAL SCM CO., LTD.
Mr. Takayuki Sumita, Director-General for Commerce, Distribution and Industrial Safety Policy of the METI
Mr. Shuji Tamura, President of Japan Freight Railway Company
Mr. Akira Sugino, President of NIPPON EXPRESS CO., LTD.