On August 24, 2016, a 6.2-magnitude earthquake struck central Italy, which was followed by numerous large aftershocks. Full restoration in the region is expected to take time. In the hope of early recovery in the affected region, Aeon collected donations totaling 8,822,751 yen at approximately 670 Aeon Group stores and business offices nationwide from September 6 to October 2. Adding 4,637,921 yen from proceeds from the "Italy Fair" held from September 22 to October 2, Aeon presented a total amount of 13,466,672 yen to the Italian Embassy in Tokyo on November 7. In consideration of the urgent need for assistance, Aeon 1% Club also donated 10 million yen in emergency recovery aid to the Italian Embassy on September 9. We sincerely hope that those affected will be able to return to their normal lives as soon as possible. We would also like to express our genuine appreciation to all who kindly gave support.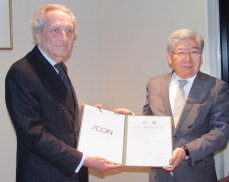 Presentation ceremony on November 7
Left: His Excellency Mr. Domenico Giorgi, Ambassador Extraordinary and Plenipotentiary of Italy, at the Italian Embassy in Tokyo
Right: Soichi Okazaki, Executive Officer, AEON CO., LTD.