Since 2000, Aeon has supported the construction of over 400 schools in five Asian countries with the belief that education is essential in achieving a peaceful society.
The initiative provides support not only in building schoolhouses, but also in improving the learning environment of children in various other ways such as developing water supply facilities and training teachers. In Myanmar, Aeon helped build 35 schools between 2012 and 2015, and aims to complete another 20 in the next three years starting 2016. Seven new schools opened as of March 31, 2017 thanks to a total donation of 58 million yen - consisting of 6,892,752 yen collected from customers through the fundraising campaign conducted in April last year, and the contribution by Aeon 1% Club Foundation. Opening ceremonies were held at each school.
Aeon continues to support the sound development of youth for the next generation through the creation of better educational environments in Asian countries.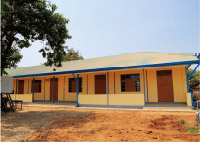 Sar Hpyu Su School, located in Taikkyi Township north of Yangon City