In 1970, Jusco Co., Ltd., was established based on the partnership between three local companies Okadaya, Futagi and Shilo.
At that time, as a result of collecting a new company name from all employees, "Japan United Stores Company Ltd. (JUSCO)" was selected, and its popular name "Jusco" became the company name.
August 21, 2001 "Jusco Corporation" changed its name to "Aeon Corporation". Then, on August 21, 2008, Aeon shifted to a pure holding company structure centered on Aeon Co., Ltd., and the retail business of Aeon Co., Ltd. was transferred to AEON Retail Co., Ltd. As of the end of February 2017, Aeon Co., Ltd. and group companies are a group consisting of more than 300 companies.
On of the Aeon Basic Prinsiples; "Pursuing peace, respecting humanity, and contributing to local communities, always with the customer's point view as its core," Aeon practices its "Customer-First" philosophy with its ever-lasting innovative spirit.​ ​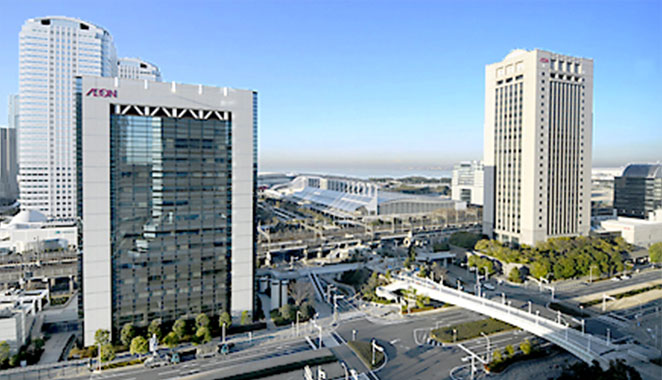 Company name

AEON Co., Ltd. (pure holding company)

Establishment

September 1926 (Taisho 15)

Head office

1-5-1 Nakase Mihama-ku, Chiba City, Chiba Prefecture 261-8515

Representative

Akio Yoshida, President and Chief Executive Officer

Capital

220,007 million  yen

Business

Management of the company's business activities by holding stocks or shares of companies engaged in retail businesses, shopping mall development buisinesses, financial service buisinesses , services buisinesses and related businesses

Fiscal year

From March 1 every year to the end of February of the following year

Stock situation

Total number of available shares: 2,400,000,000
Total number of issued shares (including treasury stock): 871, 924, 572 shares

Listed financial instruments exchange

Tokyo Stock Exchange, Inc.

Major financial institutions

Mizuho Bank, Ltd.
Norin Central Safe
Sumitomo Mitsui Banking Corporation
Resona Bank, Ltd.
Mitsubishi UFJ Bank Ltd.

Audit corporation

Deloitte Touche Tohmatsu LLC