As an innovative corporate group,
we will continue benefiting
customers and local communities.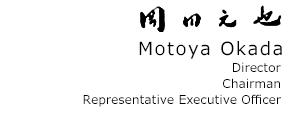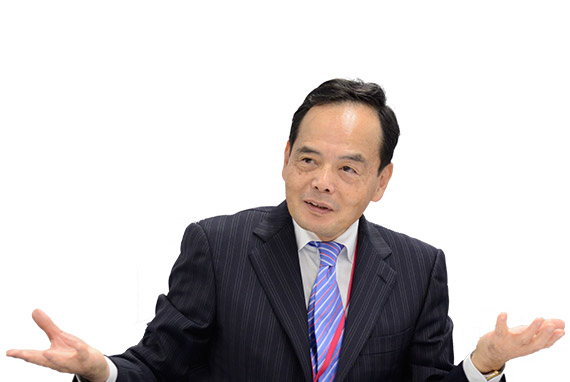 Elevating our anticipation of and responses to changes in social structures, markets, and customers
In 2019, Aeon celebrates the 50th anniversary of its predecessor JUSCO Co., Ltd. and the 30th anniversary of the Aeon Group. In each era, we have consistently put "Customer-First," anticipated changes in market and customer needs, and set out long-term, sustainable growth strategies for the Group.
As a result, in fiscal 2017, the year ended February 28, 2018, operating revenue was more than triple that of fiscal 2000, reaching ¥8,390 billion and placing Aeon among Japan's 10 leading companies across all industries.
However, conditions in Japan's retail industry are changing at an unprecedented speed. Economic society is likely to change dramatically due to the Internet of Things (IoT), artificial intelligence (AI), robotics, and other technological innovations. Changes in customer needs are expected to be equally dramatic. These changes include a decrease in meal preparation as the number of aged households, dual-income households, and single-person households increases. Also, demand is growing for time-saving options due to the reluctance of customers to spend time on daily shopping. Further, the coming of an era in which more people will reach the age of 100 is likely to result in more concerns about health and wellness, and a preference for low-prices is expected as consumers curb spending during retirement. For Aeon, meanwhile, competition is intensifying among business formats due to the growing presence of online retailers.
In response to these conditions, I think we must transform into a truly leading corporate group that anticipates such changes in social structures and markets and that reflects shifts in customers' lifestyles, values, and needs.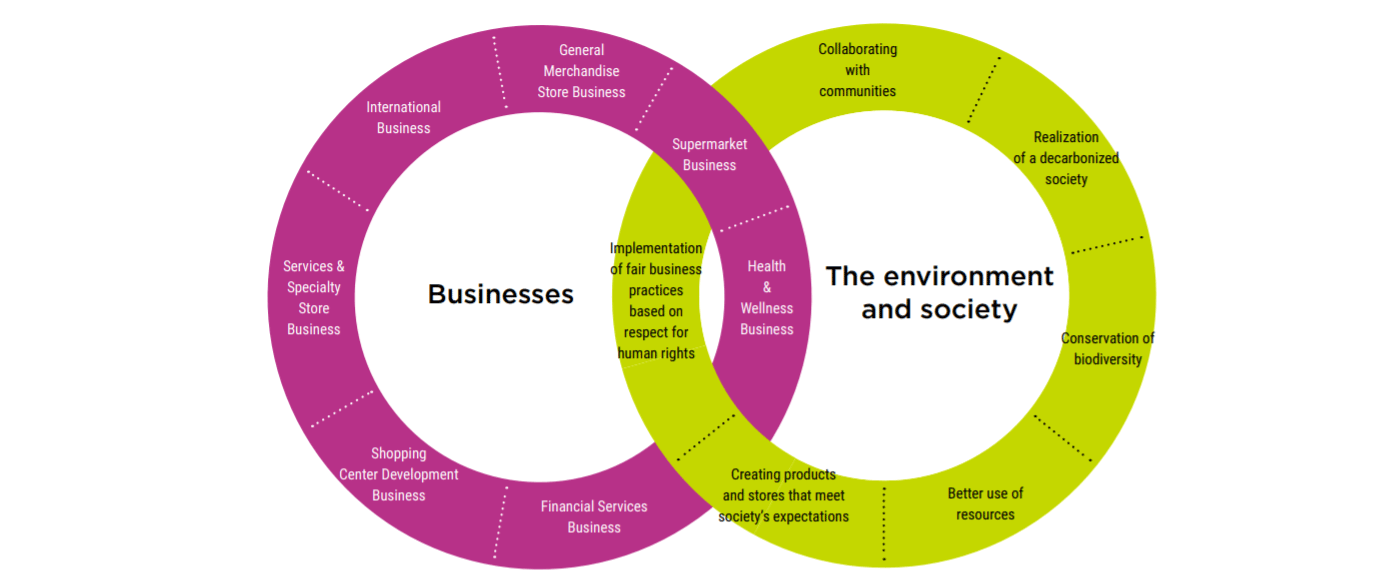 Setting our sights on growing the Group even further, we announced an updated version of the Aeon Group Medium-Term Management Plan in December 2017. The Plan calls on the Group to realize four types of transformation. These include a shift to regional markets, a shift to digital markets, and a shift to Asian markets. Additionally, it calls for an investment shift to enable the other transformations. The Plan also incorporates a road map through fiscal 2020, for which we have set ambitious numerical targets of ¥10,000 billion for operating revenue and ¥340 billion for operating income. Aiming to reach these targets, the Group will make a concerted effort to implement the Plan and become the leading corporate group in each region and business.
Pursuing sustainable management to address environmental and social issues
Based on the Aeon Basic Principles, Aeon is implementing sustainable management with the aim of simultaneously achieving Group growth while helping to realize a sustainable society. If they are to continue growing, companies need to adopt long-term viewpoints; consider environmental, social, and governance (ESG) factors; and prepare and execute management strategies that incorporate global initiatives addressing environmental and social issues. Based on the belief that it must contribute to the realization of a sustainable society through its business activities, Aeon has been leveraging the distinctive attributes of its retail businesses to move forward with a range of environmental and social measures since the era of its predecessor JUSCO.
With a view to achieving sustainable management, we have been using global standards as references in our ongoing efforts to strengthen the foundations that will help us fulfill our corporate social responsibility (CSR). For example, our announcement in 2004 of becoming the first Japanese retailer to join the United Nations Global Compact and our establishment of the Aeon Supplier Code of Conduct(new window. for pdf file.) were part of our drive to achieve sustainable management.
Recent years have seen the establishment of international goals and frameworks, including the Sustainable Development Goals (SDGs) and the Paris Agreement in 2015, which was adopted by the 21st Session of the Conference of the Parties to the United Nations Framework Convention on Climate Change (COP21). Ahead of such international initiatives, however, Aeon implemented a variety of measures. In 2006, we became the first domestic retailer to develop and market Marine Stewardship Council (MSC)-certified products. Similarly, with the 2008 announcement of the Aeon Manifesto on the Prevention of Global Warming we became the first retailer in Japan to set specific reduction targets for CO2 emissions. Moreover, we will step up the pace of such initiatives going forward.
Also, we have launched ambitious new goals. We established and announced the Sustainable Procurement Goals for 2020(new window. for pdf file.) in April 2017 followed by Aeon's Food Waste Reduction Targets(new window. for pdf file.) in October of the same year. In addition, in March 2018 we announced the Aeon Decarbonization Vision 2050(new window. for pdf file.), which declares our commitment to working with customers, business partners, and all other stakeholders to realize a decarbonized society. Further, in October 2018 we revised the Aeon Human Rights Policy(new window. for pdf file.) so that it reflects the interests of all stakeholders, including those of our business partners. I am confident that we can earn the endorsement of numerous stakeholders by addressing environmental and social issues through our businesses and working with customers, governments, and local communities to advance regionally rooted activities in this way. By aiming to become a corporate group where every employee challenges him/herself to find new ways, leveraging the advantages of a store network that encompasses Japan and other Asian countries, and giving top priority to customer satisfaction, Aeon will continue to realize sustainable management going forward.