Aeon Decarbonization Vision 2050
At Aeon, we use a great deal of energy in our business activities, and we believe that reducing energy expenditure can help prevent global warming. We established Aeon Manifesto on the Prevention of Global Warming in 2008 and the Aeon Eco Project in 2012 in order to reduce energy expenditure and CO2 emissions.​ ​
In March 2018, we announced the Aeon Decarbonization Vision 2050 as a new challenge. We aim to achieve a decarbonized society by 2050 through promotion of energy saving and the use of renewable energy.
(Photo: Aeon Mall Zama (1,000 kW solar power generation))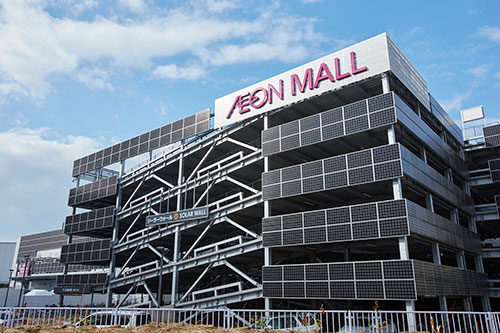 Aeon Decarbonization Vision 2050
We are making efforts to reduce greenhouse gas emissions (hereafter referred to as CO2) and to contribute to realizing a decarbonized society based on the following three viewpoints.