Comprehensive Partnership Agreements
Comprehensive Partnership Agreements with Municipalities
Aeon has signed partnership agreements with local governments all across Japan to effectively utilize resources on both sides in various areas, such as promoting disaster preparedness, welfare, environmental preservation, and commerce and tourism through the use of Gotouchi (Regional) WAON cards, etc. Starting with an agreement with Osaka prefecture in June 2010, we have signed agreements with 44 prefectures and 19 designated cities as of the end of February 2019.
For example, Aeon provides supplies and evacuation areas during emergencies in various locales. Also, joint projects such as tourism promotion and events featuring local specialties and bentos made from local agricultural products are sold at Aeon stores. These initiatives help stimulate the local economy and improve essential services.
(Photo: Morioka Sansa dance performance at Aeon Laketown (Saitama))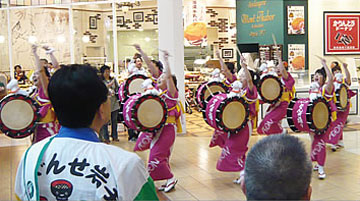 Partnership agreements (as of end of February 2019)
北海道
Aomori
Iwate
Miyagi
Akita
Yamagata
Fukushima
Ibaraki
Tochigi
Gunma
Saitama
Chiba
Kanagawa
Niigata
Toyama
Ishikawa
Yamanashi
Nagano
Gifu
Shizuoka
Aichi
Mie
Shiga
京都府
大阪府
Nara
Hyogo
Tottori
Shimane
Okayama
Hiroshima
Yamaguchi
Tokushima
Kagawa
Ehime
Kochi
Fukuoka
Saga
Oita
Kagoshima
Nagasaki
Kumamoto
Miyazaki
Okinawa
札幌市
仙台市
Saitama
Chiba
Yokohama
川崎市
相模原市
Hamamatsu
名古屋市
京都市
大阪市
堺市
寝屋川市
Kobe
Okayama
Hiroshima
Fukuoka
北九州市
熊本市
Gotouchi (Regional) WAON Cards
WAON can be used at every Aeon store and more than 383,000 member stores across the country. Aeon also collaborates with communities across Japan to create Gotouchi (Regional) WAON cards. When used by customers, these cards not only help stimulate the local economy, but also contribute to promoting tourism, preservation of cultural assets and preservation of the environment (some cards excluded).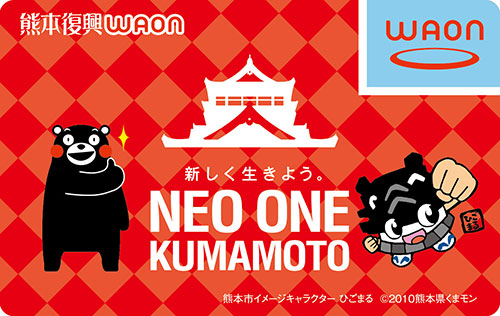 Disaster-prevention Agreement
Aeon stores act as members of the community during disasters. Disaster-prevention agreements have been concluded with municipalities all across Japan so that we can provide assistance in case of disaster. We cooperate in community disaster preparedness activities by providing emergency supplies, our parking lots as evacuation areas, and conducting joint emergency drills.
(Photo: Comprehensive disaster preparedness drill in Mie)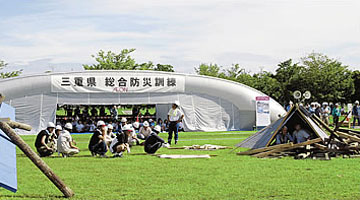 Efforts are under way to deploy "balloon shelter" large tents at Aeon, which serve as evacuation spaces in case of emergency such as earthquakes. As of the end of February 2019, balloon shelters have been deployed at 29 locations across the country, mostly in shopping centers.
(Photo: Balloon shelter)