We will execute innovative financial strategies to generate additional growth for the Group.
Akinori Yamashita
Executive Vice President and Representative Executive Officer
Chief Financial Officer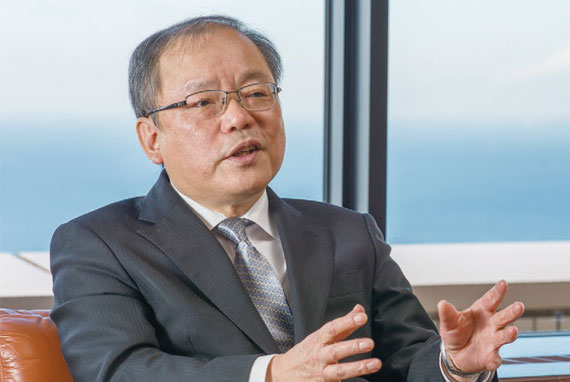 The DNA of Innovation That Has Driven Aeon to Constantly Take on New and Unprecedented Challenges Will Support Coming Generations
Aeon has a medium-to-long-term perspective on improving corporate value, and balancing assets and liabilities to generate earnings is the foundation of our financial strategy. The saying "Give the central pillar wheels" from Okadaya, one of Aeon's predecessors, has remained part of our DNA and is a key feature of our financial strategy, which is unlike that of other companies. "Give the central pillar wheels" is the linchpin that supports our stores, and thus we continue to innovate to address changing times and customers.
This mindset led us to pioneer many financial initiatives that were unprecedented either in Japan or in our industry, ranging from our strategy for funding growth to our real estate strategy and approach to fund settlement.
Our approach to fund settlement is representative.
We have consistently led our industry in introducing new models, including credit transactions and firm banking. The latter, in which businesses and banks process various types of data via electronic links, is standard today, but we were the first to introduce it in Japan's retail industry and were also the first in this industry to introduce automatic transfers for public utility payments. Aeon significantly increased the efficiency of fund settlement operations through these approaches. Moreover, we developed our own financially disciplined approach to funding after we listed our shares in 1974. We issued 20-year bonds in 2005, and in 2006 we were the first operating company in Japan to issue hybrid bonds with an exceptionally long 50-year term to redemption. Since issuing these bonds, collaboration with securities companies has enabled us to use funding methods unique to Aeon, and I am proud that we have pioneered the hybrid market. In 2000, we were the first in Japan to use a special purpose company to securitize the development of new stores.
Creating these kinds of new value is in our corporate DNA, leading us to constantly tackle challenges and innovations. I consider it my responsibility to pass on this DNA so that it leads to growth for the next generation.
Generating Growth with Unified Store Development and Financial Strategies
Aeon's fundamental financial strategy is to structure its finances to generate earnings while balancing assets and liabilities. Aeon focuses on retail, so we must execute a financial strategy that contributes to our growth strategy by balancing fixed assets such as real estate with fixed liabilities, with a focus on return on capital from inventory turns and the cash-to-cash cycle. Our real estate and investment strategies are important for maintaining financial discipline and legal compliance while continuing to open stores to generate growth. Store development is inextricably linked with our financial strategy, so the Development Department and the Finance Department maintain constant and close communication.
We have three main approaches to opening stores.
We may fund land and buildings ourselves, fund our own buildings on leased land, or lease both land and buildings. We have traditionally scrutinized and studied development projects with a balance among these three approaches driven by the features of the community and market in which the store will be located while implementing overall cash management.
Aeon Mall Co., Ltd. currently handles most of our store development operations, but the fundamental mindset is the same. We listed Aeon REIT Investment Corporation in 2013 to diversify the Aeon Group's funding methods, and to build a framework for increasing the competitiveness of stores over the long term by executing an energetic investment plan to raise the value of our properties.
Stronger Group Governance for Further Growth
Aeon has grown through mergers with leading businesses in each area. Dialogue and the fusion of values are essential for mergers, because a merger is a union of the heart and mind of two corporations. I worked at the forefront of the rehabilitation of Yaohan Co., Ltd. and Mycal Corporation. Mergers are not a oneway street for Aeon. They will not be truly successful unless we respect and integrate the values of the employees who actually make the company go. I still consider the employees of Yaohan and Mycal as comrades in arms.
Through such measures, Aeon has come to encompass a diverse array of businesses. While cash flow varies by business, we are expanding the regions where we operate globally. Overall Group governance and monitoring will therefore become even more important. Holding company finances require that we fully understand each business from a management perspective. We will fine tune the Group's structure by becoming more involved with companies undergoing rehabilitation and newly established companies that need support from the holding company.
Above all, human resource development is the key to maintaining our approach to governance and implementing financial strategies at each company that contribute to growth. We do our utmost to focus on human resources who stay abreast of funding demand and regulations in the regions and countries we serve, in addition to enhancing the skills of the CFO of each company.
Strengthening Group Governance to Enhance Our Earnings Fundamentals and Generate Synergies
The Group structural reforms we have been implementing have created the framework for generating earnings in a broad array of businesses. We will further strengthen governance as a holding company to ensure that the earnings structure reforms now under way in the GMS and Supermarket Businesses will be successful. We will then increase the level of consolidated net income attributable to owners of parent and improve capital effi ciency to optimize our capital structure and thus increase ROE.
We will invest to fire up the GMS Business and increase investment in growing businesses such as the Supermarket Business to further enhance the earnings fundamentals of the Group. At the same time, we will invest in IT and our logistics infrastructure to steadily create Group synergies that increase earnings.
We are acting on our commitment to optimal resource allocation by making growth businesses an investment priority and improving investment effi ciency. Another priority is controlling interest-bearing debt through improved cash fl ow from managing the Group's capital more effi ciently and streamlining inventory. Inventory effi ciency is particularly important for generating cash fl ow, so we will improve our cash-to-cash cycle by enhancing management of average inventory and days inventory outstanding at the Group companies.
Our shareholder return policy prioritizes an optimal balance between increasing corporate value through medium-to-long-term growth and shareholder returns.
Our dividend policy is to reward shareholders for providing capital by increasing dividends annually with a consolidated payout ratio of 30% or more. We will also continue to provide shareholders with special shopping benefits and other perquisites as a component of shareholder returns. Our objective is to generate more growth for the Group by executing innovative financial strategies.