Aiming to Move to the Next Growth Stage by
Accelerating Global Expansion and
Strengthening Cash-Generation Capability
Akinori Yamashita
Director, Executive Vice President and Representative Executive Officer
Finance and Business Management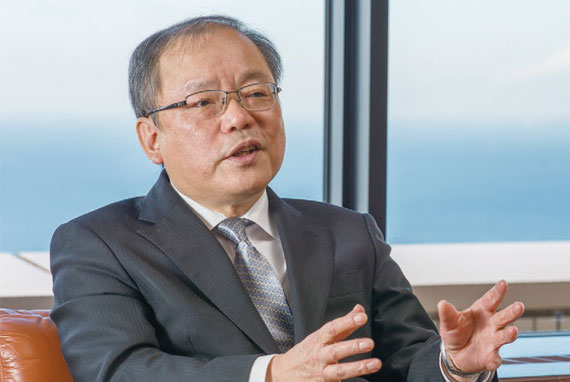 Centralized Management of Diverse Profit Structures
Aeon has four pillar businesses in retail, shopping center development, finance, and services, which it conducts with wide ranging operations in 14 countries around the world. The retail business, which has been our business since the time of our predecessor, Okadaya, is still the main driver for our earnings today. However, our new businesses are growing steadily, and the Aeon Group's business portfolio has changed enormously over the 30 years since its launch. For example, of the ¥8,518.2 billion in operating revenues that we recorded for FY2018, if the transaction volume of the Financial Services and Shopping Center Development businesses, which utilize assets, is substituted for operating revenue, the Companywide business scale becomes approximately ¥20 trillion. One of the important features of the Aeon Group is its coverage of mutually complementary profit structures through the four main businesses in this way.
The Company controls the Group's diverse profit structures in terms of operating gross profit and cash flow. In addition, to cope with the globalization of economies, we promote the adoption of IFRS for our accounting standard, mainly at overseas subsidiaries, while making an effort to ascertain the latest local information on the status of government, economy, and society. For example, tax systems differ from country to country, and it is therefore necessary to reflect local compliance perspectives in accounting governance. In addition, when procuring funds, it is essential to have an understanding of financial market trends in each country. From this perspectives, the Company has established a three-pronged headquarters system comprising our headquarters in China, the ASEAN region and Japan. Under this system, we are pursuing more effective management based on highly sensitive risk recognition.
Furthermore, in light of its business portfolio as described above, Aeon has adopted a format where both the parent and subsidiaries are publicly listed. In other words, the pure holding company overseas governance for the entire group, and the main listed subsidiary for each business segment overseas the other subsidiaries. Disclosures to the capital markets are made on a segment basis, while the listed subsidiaries are responsible for providing information for each company. This two-tier system allows for more detail in disclosure and dialogue with investors.
Strategically Accelerating Globalization
Aeon has been expanding strategically overseas into Malaysia, Thailand, and other countries since the early 1980s. Currently, our urgent priorities are to achieve sustainable growth in the first and second rounds of these businesses, while moving onto a growth trajectory with a shopping center model that integrates the four business areas of retail, shopping center development, finance, and services, which we have been working on for the past two years. We have already achieved profitability in China, following ASEAN, with operating income for FY2019 making up 20.3% of the Group total, and overseas operations now accounting for about 40% of our operating gross profit. Going forward, as the relative weight of our overseas operations increases, we will shift more of our management resources to overseas destinations. Moreover, our fund procurement should also become more stable and smoother, appropriately timed to trends in foreign exchange and interest rates and benefiting from the best conditions in each country around the world.
In promoting this overseas shift, we have several tasks to address. First, we need to accelerate digitalization and build an integrated infrastructure system. For example, one option is to set up shared services overseas that concentrate the Group's back office divisions in one place. Moreover, currently we are using different ERP* software in each region, which makes it difficult to have a single overview that includes every company's status. The standardization of ERP is an important prerequisite to enable the process of sharing and analyzing global data to identify issues.
Our second task is to bolster the functions of China and ASEAN by further delegating authority. Having established a system where the three headquarters can undertake rapid decision-making with equal qualifications, it is important to share the data and enable each headquarters to make use of it managing the subsidiaries under their control.
The third task is to strengthen the organization of our local subsidiaries. Although Asia is a single region, the different countries have diverse local business histories, levels of market maturity, and other aspects. We need to discern these factors carefully to proceed with the optimal organization management and personnel strategy. In particular, overcoming the language barrier and communicating with local staff who conduct daily operations is essential for effective management of the value chain.
The Company has positioned the next two to three years as a period for building the foundation for the next growth stage. We will boldly carry out the necessary measures in Japan and overseas, keeping our eyes on the future.
Enterprise Resources Planning: A backbone IT system for centralized management of essential corporate management resources, such as people, things, money, and information.
Strengthening Cash Flow Generation Capability
At Aeon, we analyze the status of the Group's businesses in detail in terms of both flow and stock, based on the financial statements for each business segment. Cash flow generation capability is the important indicator in this process. Retaining adequate cash deposits in comparison to the level of interest-bearing debt is an effective indicator for earning capability and financial soundness.
In cash management, Aeon places a particular emphasis on the time lag between procurement and sale when handling products, that is, management of the cash conversion cycle (CCC). Furthermore, we always consider the fluctuation of foreign exchange rates due to the impact of each country's monetary policy and the international situation.
On the other hand, the Company's equity ratio is low compared to its industry peers. This is due to our financial strategy of utilizing the cash flow increase from notes and accounts payable–trade, but it is by no means at a satisfactory level. Our policy is to further increase equity by continuing our efforts to manage cash flow appropriately, while steadily accumulating retained earnings through strengthening the earning capability of our main businesses.
Moving to a Further Growth Stage through the Power of Human Resources
Aeon's financial strategy is underpinned by the power of human resources. The CEOs and CFOs of approximately 300 operating companies form an irreplaceable human capital that supports Group management. Accurately evaluating these assets and promoting use of the right people for the right positions through human resource portfolio management is very important from the perspective of developing the next generation of leaders.
Leaders are actually required to have various qualities. For example, the founders of the three overseas companies in our finance business were all entrepreneurial-type leaders with highly magnetic personalities. While there successors had to meet this high standard, they have been able to use their experience in the Group to do a great job of taking over the businesses and keeping them firmly on a growth track. The ability to transfer of this kind of skill and know-how down through generations and to provide precious learning opportunities at approximately 300 companies in 14 countries worldwide are strengths that are unique to Aeon.
Aeon has the power of human resources to strive proactively and boldly to engage with the changing times and a flexible organizational culture that can consider the optimal form of governance from scratch. Going forward, the Company will steadily advance measures for accelerating its global expansion and strengthening its cash generation capabilities while respecting the autonomous management of its operating companies as the entire Group pursues further growth.