Aeon is working on the development of Smart Aeon, our next-generation Eco Stores that are environmentally friendly as well as energy-efficient and disaster-resilient.
In addition to building stores with lower environmental impacts, we also set out to develop next-generation Smart Aeon stores that can achieve efficient use of energy and disaster prevention from the perspective of civic- and community-building efforts carried out in cooperation with local communities.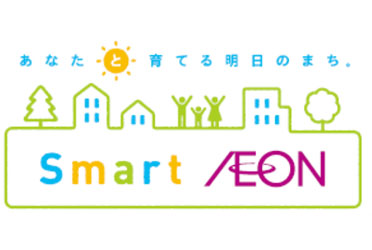 イオンは、「従来型店舗と比べて20%以上のCO2排出量削減とCASBEE*A評価以上を取得した店舗」を「エコストア」と定義し、環境にやさしい店舗づくりに取り組んできました。2005年5月にエコストア1号店「イオンタウン千種」が誕生して以降、2013年2月までに12店舗のエコストアがオープンしました。
2012年9月、この取り組みをさらに進化させた「次世代エコストア(スマートイオン)」の取り組みを開始しました。従来の環境負荷の少ない"店舗づくり"に加えて、エネルギーの効率的な利用や防災対応などに地域と協働で取り組む"まちづくり"や"コミュニティづくり"の視点を取り入れた5つの基準を策定。
2013年3月のスマートイオン1号店「イオンモール八幡東」のオープンを皮切りに、2020年2月末現在、12店舗のスマートイオンが誕生しています。
CASBEE: An environmental performance evaluation system for architecture that was developed by the Ministry of Land, Infrastructure, Transport and Tourism in 2001. It is used as an index that objectively evaluates and displays such performances as consideration for the global and surrounding environment, waste in running costs, and comfort for users.
Shifting from Eco Stores to Smart Aeon
Transformation and technical innovations
Aeon will create stores that can incorporate new technologies and accumulate experience to respond to the increasing social environmental awareness and expanding environmental regulations anticipated in the future.
Learning and collaboration
Aeon will create stores that can encourage the children of the future to take a deep interest in the environment and enhance our ties with local communities.
Disseminating information
Aeon will create stores that can disseminate Aeon's achievements in environmental preservation activities in a comprehensive and systematic manner.
We will promote the use of wind, water or other natural energy that is most suitable for that region.
We will create stores using materials with low environmental impacts.
We will use natural lighting, sounds and water to communicate with nature and to be healed by nature
We will aim to provide space where many creatures as well as people gather, and to design a pleasant landscape.
Safety, security, environmentally friendly
We will aggressively deliver environmentally friendly products that are safe and sound.
Local circulation of waste
We will circulate the waste within the community together with the local people.
Disclosure of information
We will provide comprehensive information on our stores and the environment that Aeon aims for.
We will aim to eliminate the need for disposable bags so as not to waste resources.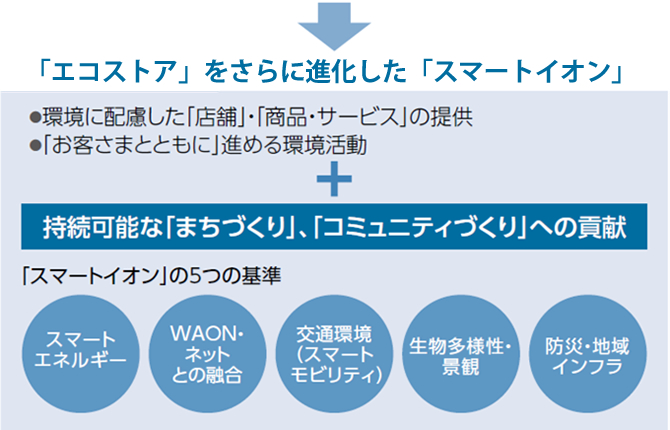 List of Eco Stores & Smart Aeon stores
Aeon Town Chikusa
Aeon MALL Dainichi
Aeon MALL Hiezu
Aeon MALL Tomakomai
Aeon MALL Kashiwa
Aeon MALL Kagoshima
Taki Crystal Town SC
Aeon Lake Town
Aeon MALL Kusatsu
Aeon MALL Tsuchiura
Aeon MALL Itami Koyo
Aeon MALL Funabashi
Aeon MALL Yahatahigashi
Aeon Town Shin Funabashi
Aeon MALL Osaka Dome City
Aeon MALL Makuhari New City
Aeon MALL Nagoya Chaya
Aeon MALL Kyoto Katsuragawa
Aeon MALL Kisarazu
Aeon Mall Okinawa Rycom
Aeon MALL Shijonawate
Aeon Mall Sakai Guncho
Aeon MALL Zama
イオン藤井寺ショッピングセンター