Bring Your Own Shopping Bag Campaign


・In addition to our general merchandise stores (GMS) and supermarkets (SM) that have stopped offering free-of-charge shopping bags at cash registers since 2007, My Basket supermarkets located in urban areas, Welcia drugstores, and Ministop convenience stores also ceased to distribute free plastic bags.

・ We have stopped the distribution of all free bags, including plastic and paper bags, at our directly operated stores within our GMS Aeon stores. For customers in need of shopping bags, disposable bags containing biomass material are made available for purchase. We will sequentially replace the materials used for these bags with FSC-certified​ paper and other environmentally friendly materials.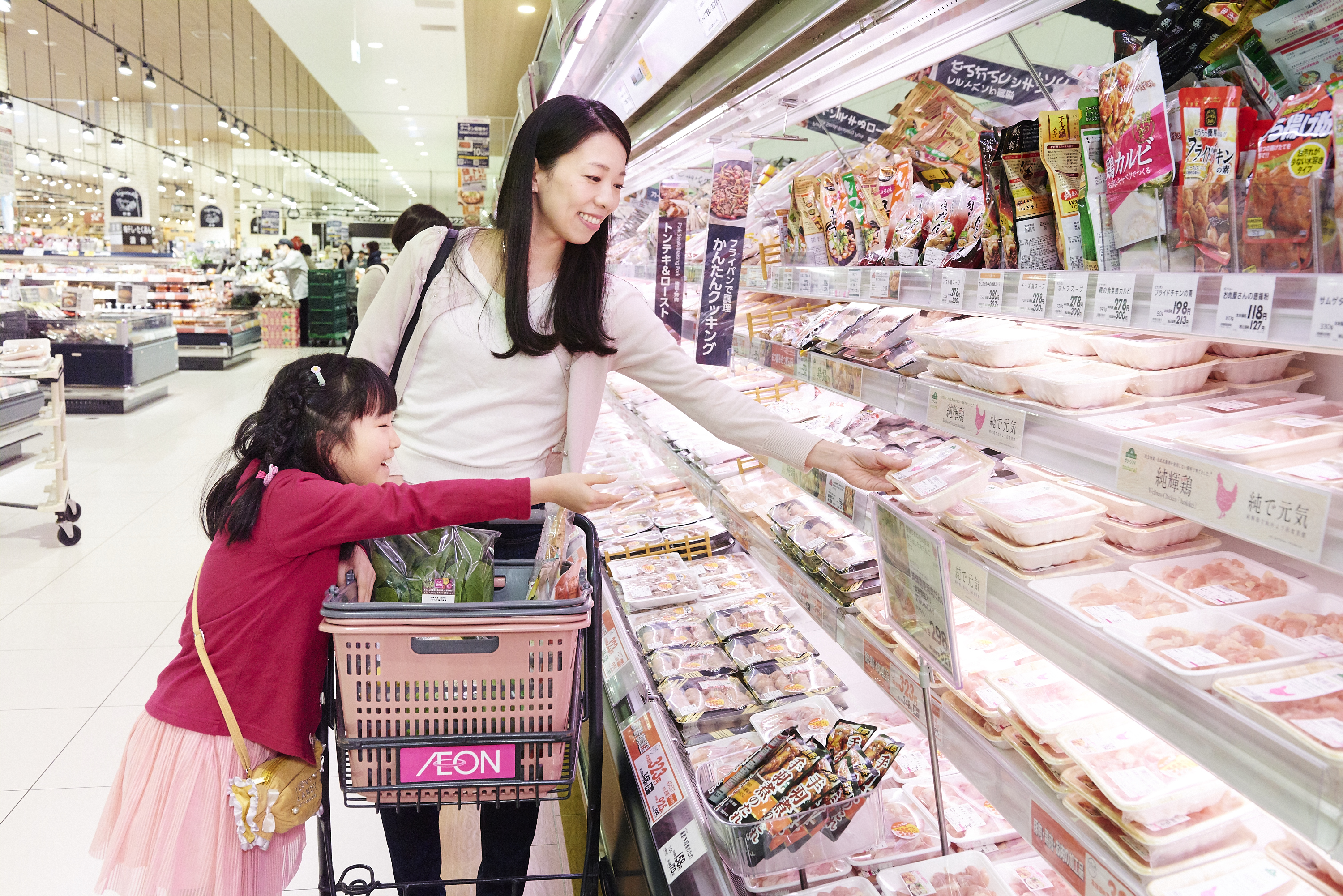 Purpose of Bring Your Own Shopping Bag Campaign
Plastic is becoming an increasingly serious global issue in the recent years, such as generating GHG when incinerated as waste and polluting the environment by being disposed in rivers and other places. According to the United Nations Environment Programme (UNEP) Report on Single-use Plastics released in June 2018, Japanese generate 32 kilograms of plastic packaging waste, being the second largest generator on a per-capita basis following the USA. Prior to the introduction of mandatory fees on plastic shopping bags in July 2020, Aeon will promote the reduction of disposable plastic which is the object of the plan, by ceasing to offer customers free-of-charge plastic bags at store cash registers bags without exceptions. Aeon will undertake initiatives together with customers to establish a non-disposable lifestyle.
​
​
​
(Graph: UNEP Report on Single-use Plastics )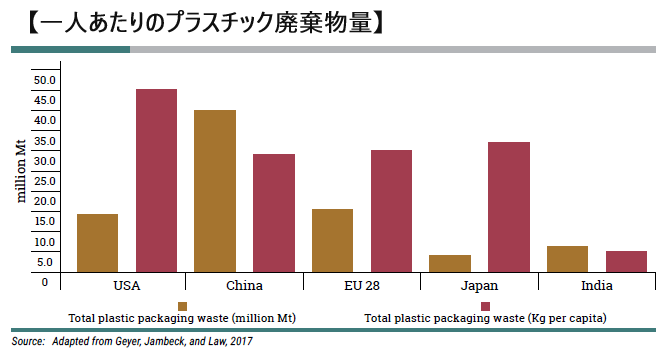 Use of proceeds from the sales of plastic bags
Proceeds from the sales of plastic bags* are donated to local municipalities and other organizations for use in greening, maintenance/cleaning of landscaped areas, and other environmental preservation activities in the area. The accumulated total of Aeon's continued donation since 2007 amounted to approximately 841.61 million yen as of the end of FY2019.​​
​
Proceeds from the sales of plastic bags: Calculated by deducting the purchase costs from the sales price (excluding taxes) of the bags
Example of environmental preservation activities using the proceeds from the sales of disposable bags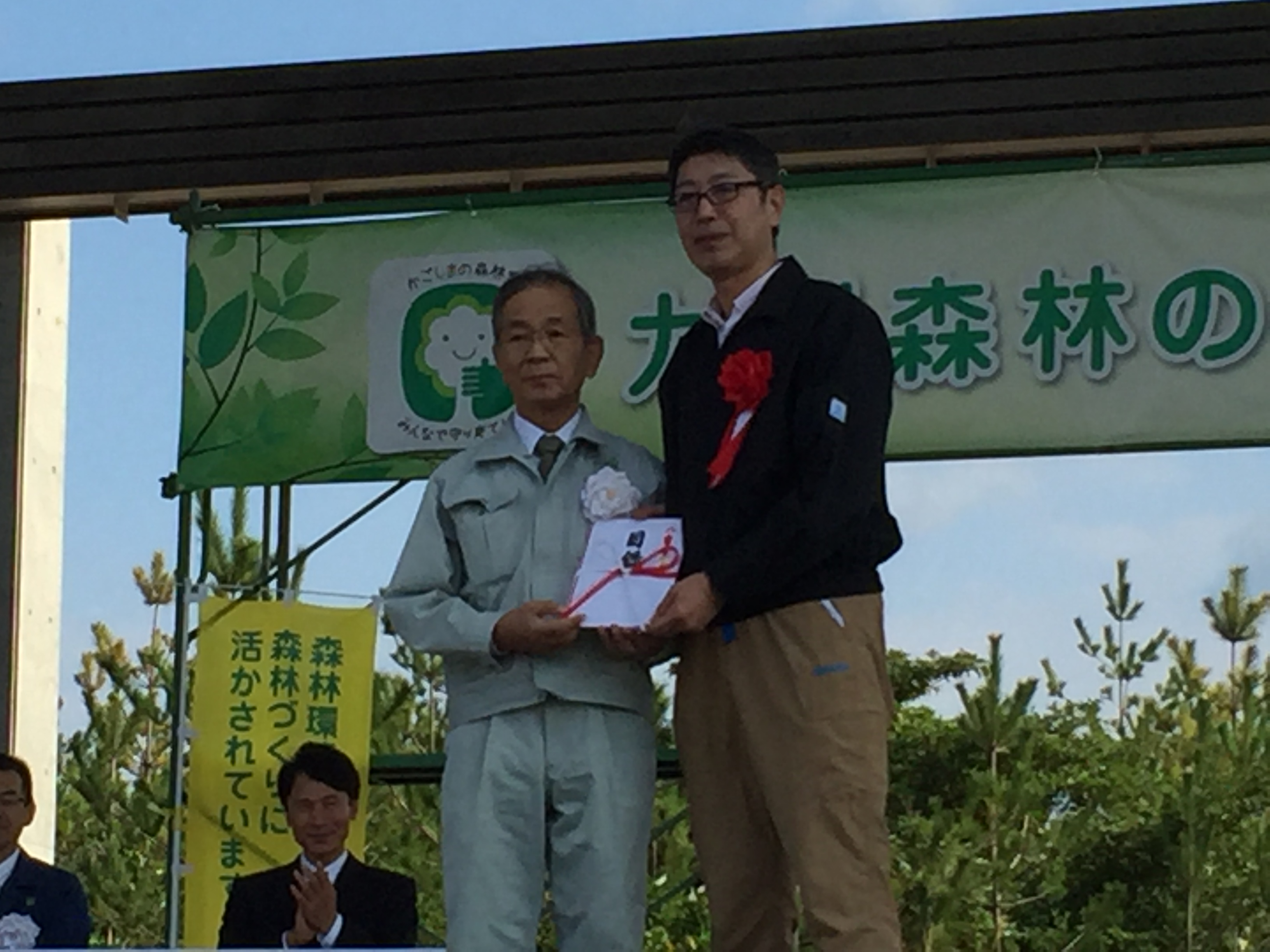 Forests program, tree planting activities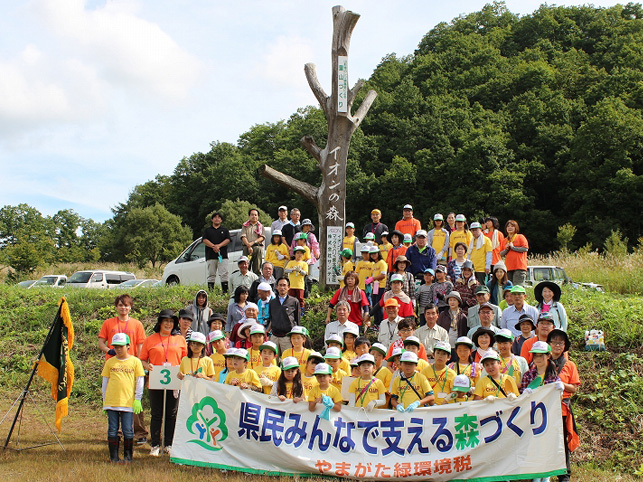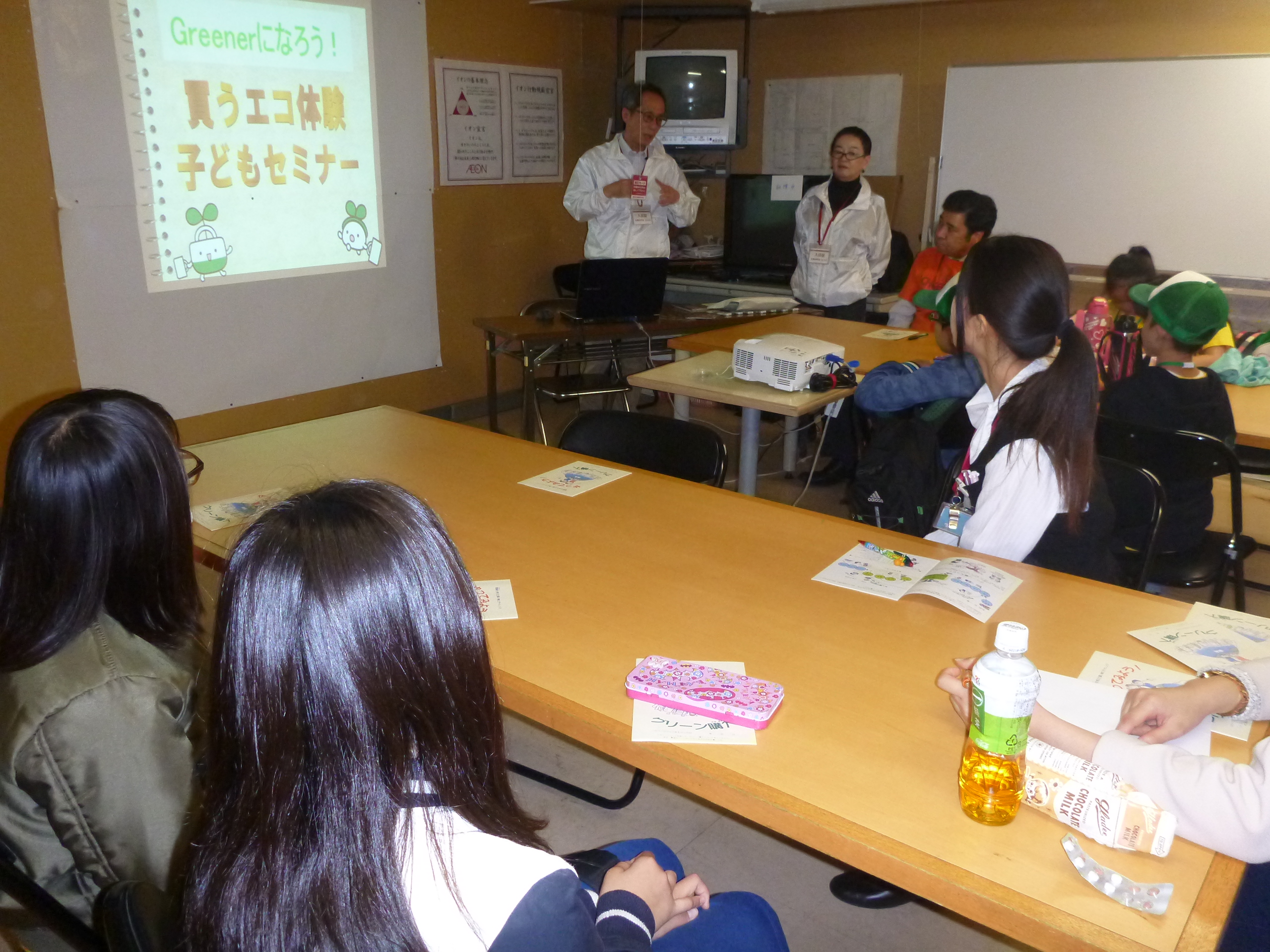 Environmental exhibitions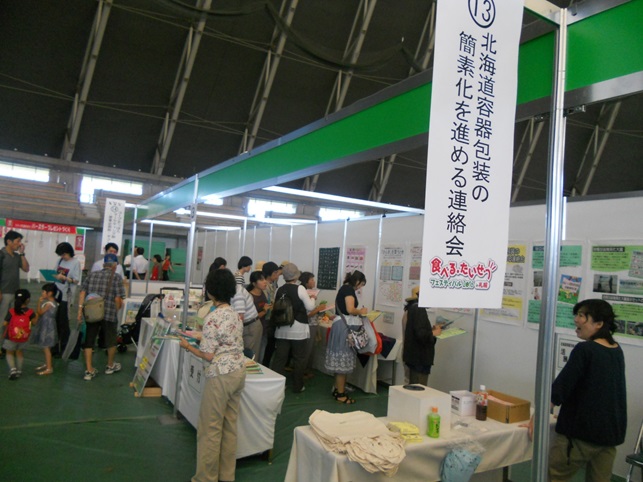 Aeon's My Bags & My Baskets
Aeon offers My Bags and My Baskets made of environmentally friendly materials. Using their own bags and baskets repeatedly will lead to reducing plastic waste.
Aeon offers My Bags and reusable shopping bags made of recycled materials at affordable prices for customers to use for everyday shopping.
Customers bring their My Baskets and place them inside the store baskets to shop. You do not need to repack your purchases at the cash register.
・ Made of biomass plastic.
・When you no longer need the basket, Aeon will refund the deposit that was paid upon purchase of the basket.
・ My Basket aims to reduce the use of disposable shopping bags, and is intended for use by individual customers in everyday shopping. Aeon does not permit commercial use and use for purposes other than personal shopping.
・​ My Basket may not be available at some stores.
History of Bring Your Own Shopping Bag Campaign
イオンは1991年よりお客さまとともに「買物袋持参運動」を展開しています。多くのお客さまがマイバッグのご持参やレジ袋の辞退にご協力くださり、無料配布終了店舗でのレジ袋の辞退率は2020年4月現在で80%まで高まっています。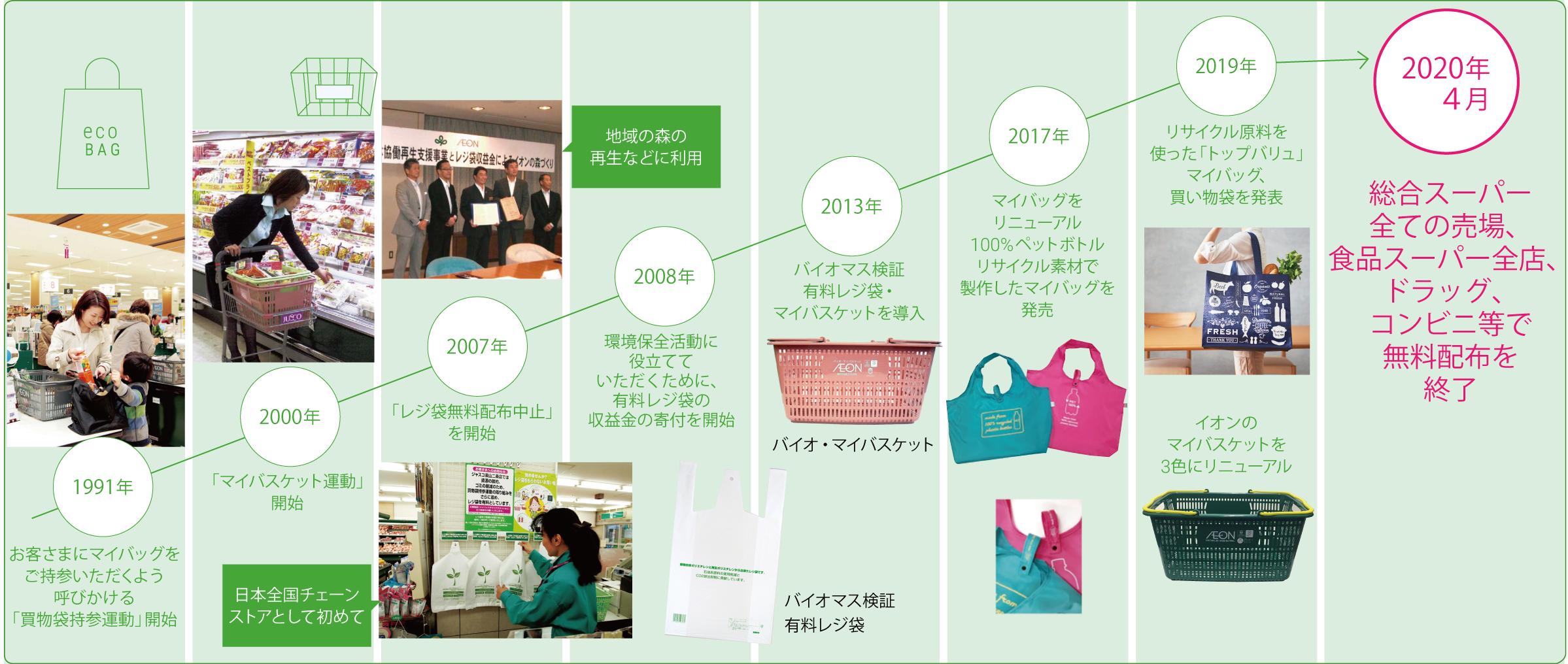 Promotion of My Bags among Children
In view of the introduction of mandatory fees on plastic shopping bags, children from the Aeon Cheers Club of the South Kanto District drew posters on the themes "Reduce Disposable Bags," "Promote My Bags," and "Conserve the Environment." By drawing pictures, children had the opportunity to think about the current issues including marine trash pollution, reduction of plastic, and conservation of the environment. At the exhibit held at Aeon Marinpia, many posters promoting the use of My Bags were presented.
​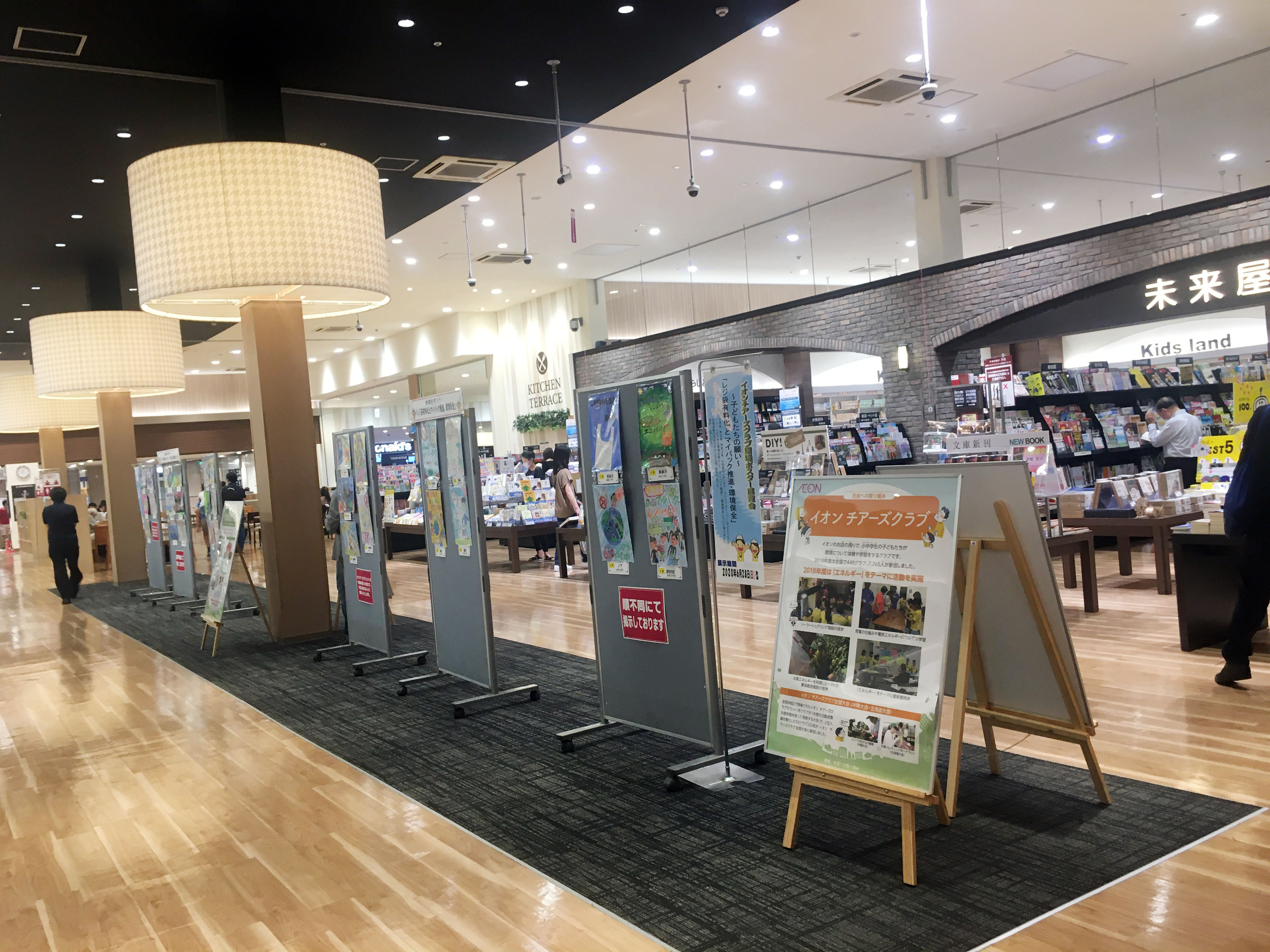 Outstanding works at Aeon Marinpia Store exhibition
Tsudanuma Store
Save the Earth with My Bags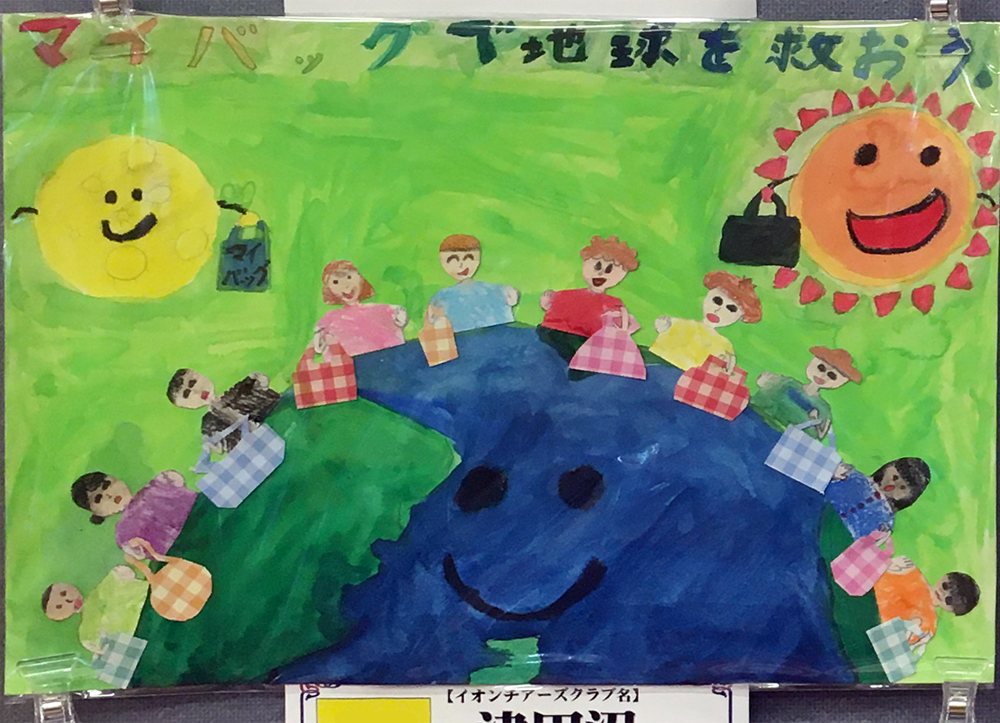 Nerima store
Which will you choose?
Yachiyo Midorigaoka store
Helpful My Bag