Global Framework Agreement
In order to become the true number one retailer in Asia, we promote sustainable management together with labor unions in Japan and across Asia overall.

In 2014, Aeon signed the Global Framework Agreement with the UNI Global Union, UA Zensen, and the Federation of AEON Group Workers' Unions, declaring our commitment to further promote sustainable management.​ ​
This agreement recognizes that corporations and labor unions are both social partners, promising to work together based on international standards of labor, human rights and the environment.
(From left in photo)
Chairman Kenji Niinuma, Federation of AEON Group Workers' Unions
Director and chairman of the board Hiroshi Yokoo, Aeon Co., Ltd.
General secretary Philip Jennings, UNI Global Union
Chairman Naoto Omi, UA Zensen
(Titles at the time of the agreement)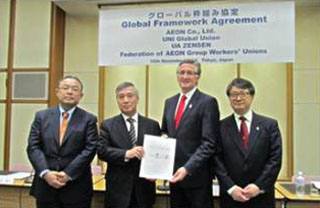 What is the Global Framework Agreement?
Aeon operates on the basic principles of pursuing peace, respecting humanity, and contributing to local communities, always with the customers point of view as its core. With business spreading across all of Asia, we have signed an agreement with partners who understand the customs and cultures of each country in order to spread these principles.​ ​
Specifically, they include respecting basic human rights in the workplace and promising to deal with the effects of business on the global environment. These include respecting the human rights and basic rights of workers advocated in the eight core conventions of the ILO as well as respecting the 10 principles of the UN Global Compact.​ ​
The international standards for labor, human rights and the environment agreed upon by Aeon are also being reexamined in Japan together with the labor and management to improve the situation.
Future Initiatives for Aeon People in Japan and Overseas
The mutually respected, harmonious relationship between the labor and management at Aeon serves as a role model for overseas group companies that will experience future developments (labor and management consultation system). The Aeon labor and management relationship is based on respecting people and cooperation with the goal of continued prosperity in business.​ ​
The four parties that signed the agreement support the formation of a harmonious relationship between the labor and management at all companies, including those overseas. Japanese initiatives on labor, human rights, and environmental standards will take things to the next level as a way to promote sustainable management.
Building a relationship between the labor and management in Indonesia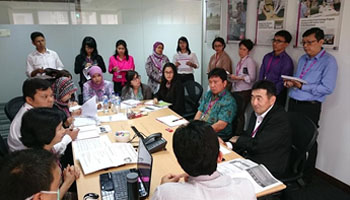 (Dialog between the labor and management)
Example of labor, human rights, and environmental initiatives
Labor

Promotion of diversity
Regular meeting of the Health and Safety Committee
Thorough health checkups
Eradication of long working hours and unpaid overtime

Human rights

Eradication of harassment
AEON Code of Conduct training and thorough human rights training

Environment

Promotion of volunteering (tree planting activities, etc.)
Promotion of Clean & Green Activities Campaign