Creating Convenient Store Environments
Aeon created its own original design standard based on the Heart Building Law (renamed to New Barrier Free Law in 2006)​ ​*​ ​established in 1994, which is used in the construction of new stores and renovation of existing stores. As of the end of February 2019, more than 760 facilities are New Barrier Free Law certified.
We are also enhancing functional design initiatives by incorporating universal design concepts into store design. In consideration of the growing population of senior customers, it is our goal to spread the concept of universal design to all of our stores.
The Heart Building Law, which is concerned with promoting construction of specific buildings that are accessible to elderly and physically disabled persons, was revised and renamed to the New Barrier Free Law in December 2006.
New Barrier Free Law (former Heart Building Law) certifications
More than 760 facilities (as of the end of February 2019)
Main Initiatives at Aeon Laketown
Aeon Laketown is built on the concepts of easily finding one's way around, user friendliness, not tiring, safety and security, so that all customers can enjoy a comfortable shopping experience.
Ease of finding one's way around
Large guidance signs in parking garages
Large guidance signs are installed on the walls of parking garages so as not to interfere with shoppers' views while driving, and so that anyone can easily find their way.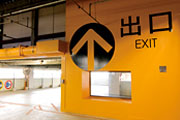 Line of sight signs in buildings
Guidance signs and other signs that naturally fall within customers' line of sight are installed in locations all around the facilities. Signs are designed to easily identify your current location with a flashing indicator.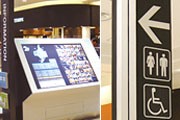 "Reading Signs" for visually impaired persons
Special reading signs are installed in the hallway that leads from the main mall to the restrooms so that visually impaired persons can find their way by placing a finger on the wall.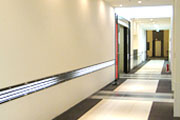 Restrooms that are easy to use
There are a variety of toilet seats installed in a large space so that each customer can choose the toilet seat that is right for them.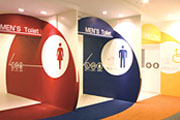 Multipurpose restroom
Restrooms with large open spaces and handrails are available for customers who need assistance.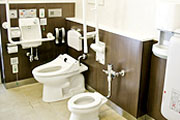 Remote-controlled parking space for physically disabled customers
A remote control is lent to registered persons with disabilities so they can operate the parking gate.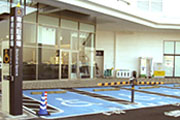 Milk room for nursing and changing diapers
A milk room is available for customers with small children, where they can be nursed and have their diapers changed. The space is nice and relaxing.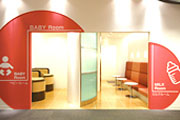 Back rests and handrails inside elevators
Back rests and handrails are installed inside elevators. This idea is intended to help keep shoppers from becoming tired.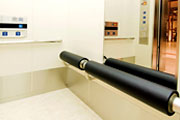 Priority benches
Priority benches are for use by persons who require assistance and elderly customers. Enjoy a break while shopping.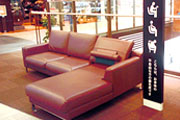 Barrier-free entrances
All entrances offer a barrier-free ramp so that customers in wheelchairs can easily enter the building.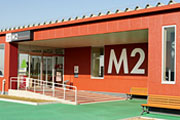 Escalators with guide handrails
Handrails are installed at the entrance to escalators to help prevent tripping.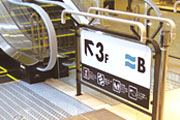 Along with hard surface accessibility measures for the building and facilities, Aeon offers emotionally-reassuring accessibility services with employees certified as Service Care-Fitters​ ​*​ ​since 2006. This effort helps provide a safe and enjoyable shopping experience for elderly and disabled customers.​ ​
Service Care-Fitters are certified by the Nippon Care-Fit Service Association, and indicate persons who have mastered the spirit of Japanese hospitality and proper assistance techniques. As of the end of February 2019, there are 11,700 employees at the Aeon group certified as Service Care-Fitters.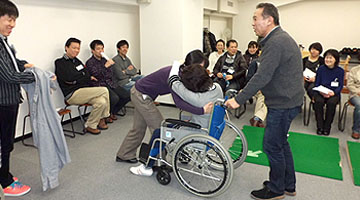 A qualification certified by the Nippon Care-Fit Service Association, a specified nonprofit corporation (renamed the Nippon Care-Fit Education Institute, a general incorporated association, in April 2014)
Dementia Supporter*
As a part of helping our aging society, Aeon was the first retail business to join the Caravan to Train One Million Dementia Supporters company-wide, a program promoted by the Ministry of Health, Labour and Welfare and the NPO Community-Care Policy Network from 2007. This led to holding the Dementia Supporter Training Course for Aeon people. This initiative is intended to provide proper understanding of dementia as well as support for persons suffering from dementia and their families. It is the largest operation for any business in Japan having trained 75,253 people (as of the end of February 2019) and 899 caravan mates.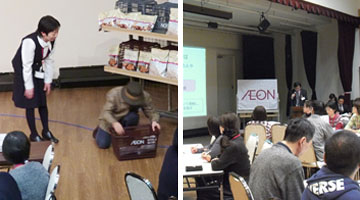 This refers to people who have been certified by completing a designated government course to understand dementia, kindly keep an eye on dementia sufferers and their families, and help out wherever possible.