Creating Convenient Store Environments
イオンは、1994年に施行された「ハートビル法(2006年から「バリアフリー新法」)」*に基づく独自の設計基準を作成し、新店舗の建築や既存店舗の改築時に活用しています。2020年2月末現在、約760以上の施設が「バリアフリー新法」の認定を取得しています。
また、「ユニバーサルデザイン」の考え方を店舗づくりに採り入れ、機能・デザイン面でも取り組みを強化しています。今後、従来の顧客層に加えてシニア層のお客さまが増えることを考慮し、ユニバーサルデザインの考え方を全店舗に広げていくことをめざしています。
The Heart Building Law, which is concerned with promoting construction of specific buildings that are accessible to elderly and physically disabled persons, was revised and renamed to the New Barrier Free Law in December 2006.
New Barrier Free Law (former Heart Building Law) certifications
760以上の施設(2020年2月末現在)
Main Initiatives at Aeon Laketown
Aeon Laketown is built on the concepts of easily finding one's way around, user friendliness, not tiring, safety and security, so that all customers can enjoy a comfortable shopping experience.
Ease of finding one's way around
Large guidance signs in parking garages
Large guidance signs are installed on the walls of parking garages so as not to interfere with shoppers' views while driving, and so that anyone can easily find their way.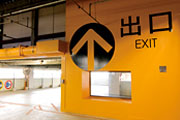 Line of sight signs in buildings
Guidance signs and other signs that naturally fall within customers' line of sight are installed in locations all around the facilities. Signs are designed to easily identify your current location with a flashing indicator.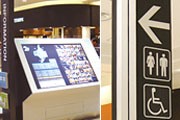 "Reading Signs" for visually impaired persons
Special reading signs are installed in the hallway that leads from the main mall to the restrooms so that visually impaired persons can find their way by placing a finger on the wall.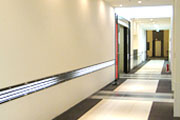 Restrooms that are easy to use
There are a variety of toilet seats installed in a large space so that each customer can choose the toilet seat that is right for them.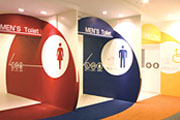 Multipurpose restroom
Restrooms with large open spaces and handrails are available for customers who need assistance.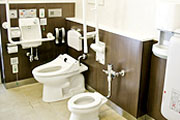 Remote-controlled parking space for physically disabled customers
A remote control is lent to registered persons with disabilities so they can operate the parking gate.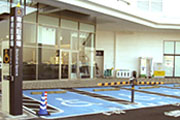 Milk room for nursing and changing diapers
A milk room is available for customers with small children, where they can be nursed and have their diapers changed. The space is nice and relaxing.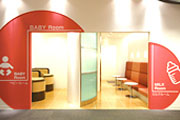 Back rests and handrails inside elevators
Back rests and handrails are installed inside elevators. This idea is intended to help keep shoppers from becoming tired.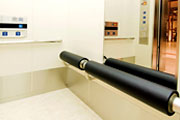 Priority benches
Priority benches are for use by persons who require assistance and elderly customers. Enjoy a break while shopping.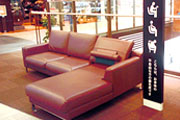 Barrier-free entrances
車椅子の方がスムーズに入館できるよう、すべての入り口に段差のないスロープを設けました。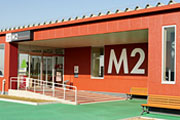 Escalators with guide handrails
Handrails are installed at the entrance to escalators to help prevent tripping.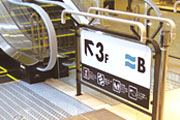 イオンは、高齢者や身体の不自由なお客さまが安心して楽しくお買物していただくために、建物や設備などハード面のバリアフリー対策とともに2006年より従業員の「サービス介助士」*取得による心のバリアフリーを目指しています。
「サービス介助士」とは、「おもてなしの心」と「適切な介助技術」を身につけるためのNPO法人「日本ケアフィットサービス協会」が主催認定する資格です。2020年2月末現在、イオングループのサービス介助士の取得者数は、11,112人になりました。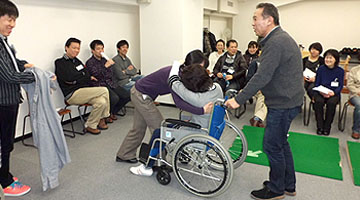 A qualification certified by the Nippon Care-Fit Service Association, a specified nonprofit corporation (renamed the Nippon Care-Fit Education Institute, a general incorporated association, in April 2014)
Dementia Supporter*
イオンは、2007年から高齢化社会への対応の一環として厚生労働省とNPO法人「地域ケア政策ネットワーク」が推進する「認知症サポーター100万人キャラバン」に小売業として初めて全社的に参画し、イオンピープル向け「認知症サポーター養成講座」を開催しています。認知症を正しく理解し、認知症の方とそのご家族を適切にサポートするための取り組みで、国内企業で最大規模となる79,086人(2020年2月末現在)、またキャラバンメイトは899人を育成しています。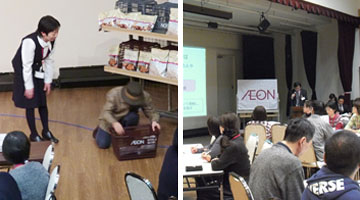 This refers to people who have been certified by completing a designated government course to understand dementia, kindly keep an eye on dementia sufferers and their families, and help out wherever possible.